Top 5 Signs of Engine Trouble
Original Article on HowStuffWorks.com BY AKWELI PARKER & KRISTEN HALL-GEISLER
Do you know the early warning signs of engine trouble?
We've all done it: While sitting in traffic, maybe at a red light, you listen. Is that a whirring sound? What is that whirring sound? Where is it coming from? Is it from my car? Is it in the engine? Please don't let it be in the engine. It's just the air conditioner. Or maybe it's not even my car. The car in the next lane looks like a real clunker. I bet it's that car.
Repeat with any sound, any smell, any weird feeling you get while driving. Car jerking around? They need to pave this road. Engine smells funny? That's because this whole town smells. Check engine light come on? It's probably a loose gas cap. And of course, if you hear something strange, turn up the radio and drown it out.
Because otherwise, these things can give you a panic attack. With every sound, smell, and insistent light on the dashboard, we see days without a car to get to work and money flying out of our wallets like winged monkeys in little red vests and hats.
Here are a few of the scariest signs of engine trouble, the likely causes. And yes, they almost all require immediate attention -- but there's no need to panic. Unless you actually see those flying monkeys. They're creepy.
5: Warning Lights
A "Check Engine" lamp can signal a variety of issues.
If your car is working properly, these are what Audra Fordin of "What Women Auto Know" calls "hello, good morning" lights. You fire up the engine and the dashboard lights up like carnival. This is the car's computer checking everything out. One by one, each of the lights turns off and you're ready to drive.
If they don't turn off, though, that's bad. Either very bad or slightly bad, depending on which light remains lit. These lights are connected to sensors that monitor everything your car does. If something seems out of whack, the computer will use these lights to tell you what it is. It can't use its words; it's not KITT, you know.
The lights you'll probably want to pay the most attention to are:
Check Oil/Oil Level Low
Oil Pressure Low
Check Engine
The "Check Engine" lamp is perhaps the most troubling of lights because it could mean so many different things, from "you didn't screw the gas cap on tightly enough" to "look out for pistons flying through the hood and into the stratosphere." The easiest way to find out what this light is telling you is to hook your vehicle up to a scan tool. This diagnostic tool looks a little like an oversized calculator and plugs into a communication port inside the car. After you instruct it to perform the scan, it "speaks" with your car's computers to find out exactly what's prompting the light to turn on.
You can purchase your own tool from an auto parts store for less than $100, but then what? You're probably not going to put on your coveralls and crawl under the hood yourself. Instead, visit a service station, where a technician will use the scan tool to identify the trouble.
4: Doing the Jerk
No, we're not talking about that cool dance where your knees kind of open and close and you move from side to side, and you can get all low and funky with it. We're talking about a car doing the jerk, which is much less cool.
Driving should be free of jerking, surging, or stalling. It should be smooth and easy, more like ballet than Beyonce. What's cool in the club is not cool in an engine.
But if your car is popping and locking, that's a pretty strong sign of engine trouble. It could be due to fouled spark plugs, clogged fuel lines or fuel filter, the main computer reading the driving situation wrong, or many, many other issues.
The last thing you want is for your vehicle to take its own sweet time accelerating, or to give out entirely, as you're merging onto a busy highway with other vehicles barreling down behind you. Likewise, high revving at idle or acceleration that's out of your control are situations you should have a qualified technician investigate and repair as soon as possible.
Preventive maintenance, including regular oil changes and belt replacements at recommended intervals help to keep you out of the danger zone.
3: Rude Noises
A little bit of noise from under the hood is normal.
You know how your uncle Barney makes all those sounds at Thanksgiving, and he thinks they're hilarious? Well, if your car ever sounds like Uncle Barney, you've got serious problems.
A tapping or popping that sounds like Barney doing deep knee bends (which never happens), for instance, could indicate detonation taking place within the engine's cylinders. This happens when gasoline ignites prematurely in the combustion chamber of the cylinders and can potentially result in expensive piston damage.
If you hear a grinding noise when you attempt to start your car, your starter motor might need to be adjusted or replaced. If you hear grinding when shifting between gears, it could be transmission replacement time! It's not as fun as it sounds. And if you're driving a manual transmission, do not listen to Uncle Barney when he says, "Grind it 'til you find it."
In most cases, a little bit of noise from either your car or Uncle Barney -- like a mild ticking or clicking -- might be normal. Cars with roller rockers in their valve trains, for instance, emit some ticking noise; and fuel-injected vehicles also produce slightly audible clicks from the injectors [source: 2CarPros.com].
If in doubt, listen intently, try to track down the general area of the noise as best you can and then attempt to explain it in as much detail as you can to a qualified service professional.
2: Foul Smells
Cars rarely smell delightful. They're burning gasoline or diesel fuel, there's hot metal under the hood, and your brother ate a burrito just before he got in the passenger seat. There's not much you can do about your brother besides open all the windows and monitor his lunch intake, but any other automotive smells that make it into the passenger compartment spell trouble.
The scent may signal oil or coolant leaking from their normally closed-loop systems, or it may indicate dangerous exhaust gases invading your car's interior. Car and truck exhaust contains toxic gases such as carbon monoxide, so if the inside of your car smells as if you were standing behind your car, get out and get it fixed. Fight the urge to take a little nap first. So sleepy. That's the carbon monoxide talking, friends. At least open a window on your way to the shop.
The smell of burning rubber could mean you just did an awesome smoky burnout, or it could be telling you that drive belts or accessory belts beneath the hood are damaged, loose, or worn out. It could also mean that a rubber hose carrying important fluids is touching something that it shouldn't -- something that's too hot and is melting the rubber.
In any case, it's a good idea to act sooner rather than later, as these nasty smells could be linked to a much more crucial and expensive component.
1: Smoke Signals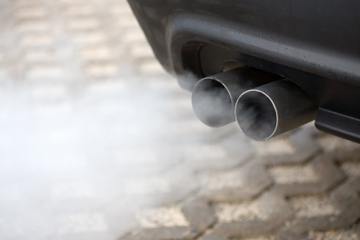 Exhaust smoke can give you clues about what's going on inside of your engine.
Smoke can come from the front or back of the car, and it's not good in either case. But the tailpipe will send-up colored smoke in attempt to tell you what the problem is. Here is your secret decoder ring:
Blue smoke: Oil is escaping from its intended passageways within the engine and is being burned along with fuel. Of course, you could always keep adding engine oil to the crankcase to prevent it from being all burned up (and risking serious engine damage), but the smart thing to do would be to take the car in to have any worn or damaged seals repaired [source: Torbjornsen].
White smoke: Water condensation or antifreeze has mixed with the fuel supply. Again, adding coolant or antifreeze to your car's cooling system will keep your car from overheating for as long as you remember to keep feeding the reservoir, but the wise move is to have it checked out as soon as possible.
If the smoke is coming from under your hood, that probably means you ignored white smoke coming out of the tailpipe, and now your engine is overheating. Or maybe you completely forgot to add coolant at all, and the engine overheated. Not that anyone would ever do that. That's ridiculous.
Author's Note: Top 5 Signs of Engine Trouble
I mentioned in that last tip that no one could possibly be so ignorant as to let their car run out of coolant. No one but me, that is. My first car (when I was 17) was a Chevy Chevette. I knew nothing about car maintenance, having only a vague idea about oil changes being somehow necessary. I certainly didn't know about checking fluids, or paying attention to the temperature gauge in the dashboard, or what to do when any warning lights came on. When hot, white smoke billowed from under my cheap hood, I learned very quickly about the price of coolant ignorance. It's expensive to replace an engine, even in a crappy car from the 80s.
Sources
com. "Why Is My Engine Making Noise?" (Oct. 13, 2009) http://www.2carpros.com/first_things/why_is_my_engine_making_noise.htm
org. "What To Do if the 'Check Engine' Light Goes On." March 2009. (Oct. 12, 2009) http://www.consumerreports.org/cro/cars/new-cars/news/2005/ what-to-do-if-the-check-engine-light-goes-on/overview/index.htm
com. "How To Speak Mechanic." (Oct. 12, 2009) http://www.goodwrench.com/Tips/DiagnosingTheProblem.jsp
Torbjornsen, Tom. "Smoke From Your Tailpipe? Know the Difference Between White Smoke and Blue Smoke." July 8, 2009. (Oct. 9, 2009) http://autos.aol.com/article/car-smoke
Turbo Magazine. "Engine Diagnostics Part Two - Crank, Ignite, Charge." (Oct. 9, 2009) http://blogs.turbomagazine.com/index.html
S. Environmental Protection Agency. "On-Board Diagnostics." (Oct. 10, 2009) http://www.epa.gov/otaq/regs/im/obd/index.htm
---
---